New Here?

Dear Friend: We are glad you joined us today. In whatever circumstances or situation you presently find yourself, there is a place for you here at Laveen Baptist Church. We would invite you to come and be a part of what God is doing. We would enjoy the opportunity to get to know you.
We hope the accompanying materials will help give you an idea of some of our programs and ministries. If we can be of service to you or answer any question you have about the church, don't hesitate to call.  We look forward to serving with you as we work to share the love of Jesus with our community and with the world.
In Christ's Love,

Laveen Baptist Church
5036 W. Dobbins Rd.
Laveen, Arizona 85339
602-237-4885
SCHEDULE OF REGULAR SERVICES WINTER 2023
SUNDAY
8:30 am – Sunday School For All Ages
9:45 am – Fellowship Time
10:05 am – Worship Service – (In person and Livestream)
– Children's Church
– Preschool Extended Session
5:00 pm – Evening Study – (In person)
MONDAY
  8:00 am – Ladies AM Bible Study
10:00 am – GriefShare (In person) - Starting 1/30/2023
   6:30 pm – GriefShare (via ZOOM) - Starting 1/30/2023
TUESDAY
6:30 pm – Victorious Overcomers Support Group
WEDNESDAY
5:00 pm – Dinner
5:55 pm – AWANA
6:15 pm – Youth Wednesday Night Worship
6:15 pm – Ladies PM Bible Study
6:30 pm – Hour of Prayer
THURSDAY
6:15 pm – Men's Bible Study
7:00 pm – Young Adult/ Christian Challenge Off Campus
FRIDAY
6:30 pm – AA Meeting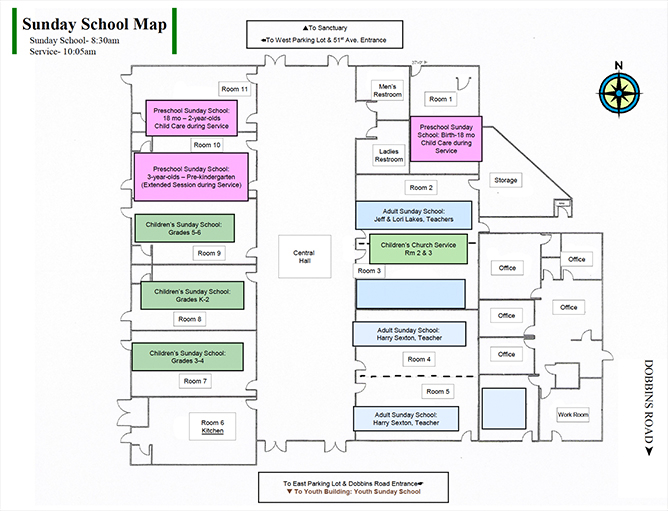 Our Statement of Faith
    "We believe in the inspiration and authority of the Bible, that God is eternally triune, that man is sinful and deserves punishment, and that only Jesus Christ perfectly paid for the sins of all who believe, giving them eternal life. The Holy Spirit indwells those who believe and helps them live a godly life in loving fellowship. Those who do not believe will be eternally separated from God."

Affiliated with the Southern Baptist Convention
SBC.net - Good News for the Whole World